News
NATO AND GROWN IN THE COUNTRY, NOW LIVING IN THE CITY
(Already started!)

Periodo: Luciano Maffei, born in 1949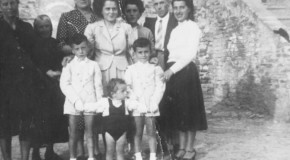 I was born in Monte Sante Marie, in the municipality of Asciano, a beautiful rustic little village of medieval workmanship and ancient traditions.
Located on a hill, after about one km. Of winding climb you arrive in the leafy square surrounded by traditional apartment houses, that is, with the stable downstairs and the house above. So two-storey houses with exterior stairs, long central corridors, huge kitchen with large fireplaces.
The church built between the houses and made with the same red clay bricks baked in the local furnace.
I was told that for the few houses in the village, the owner had built on purpose, a brick kiln used to fix and expand his mansion but also to build new houses and farms for the farmers. Why all the houses were the same color!
The furnace used the clay of which were made our hills, carved by hand, kneaded by hand and that which is always nice, with bricks left to bake in the sun in the middle of summer .......... .......

To continue reading the history, open the attachment.