News
SOME OF COUNTRY LIFE AND MEMORIES OF WAR, Bruno Snitches
(Already started!)

Periodo: Other Life story lived harvested between our old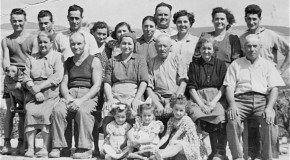 The series of life stories related to "The Paths of Memory" project by CreteSenesi.com and which aims to gather local historical material, either as photos that document.

As a result, the beginning of the story dell'ottantacinquenne Bruno Snitches, a big old man with a mind still lucid:
I was born in Rapolano in 1931, the farm Pitch, just over one kilometer from the center: there I spent my first seven years of life. It was a farm of about 20 hectares and it produced oil, wine good and cereal. The family consisted of 18 or 19 people, and the estate being small made little, why in 1940 we moved to Torrentino, along the Ombrone river and about 3 km from the village Asciano.
Here I was able to attend primary school and spent a dark period, characterized by fascism, war and misery. We got up at seven, the mothers had prepared a slice of toast on the chimney tripod, a cup of barley black as pitch. When there was some cow nursing, my father rubbed a cup of milk to the calf, which served to improve barley sweetened by a teaspoon of honey, because sugar was not there, then off to the country to go to school ............

To continue reading, please download the pdf attached to this news.