News
The Shops of Memory: the story of George Equatori.
(Already started!)

Periodo: Tale premiered at the 2015 competition, organized by the Provincial Confesercenti.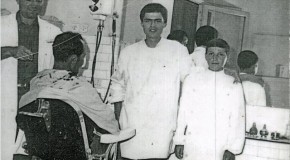 "Georgie studied, please teacher! At least you have three months off a year and if you get sick you can stay home quiet. "This was what the father Angiolo, he barber in Asciano since 1939, told me to get them when I was in school. He had seen them leave not even a postcard and many times eraandato apprenticed with a fever. Therefore, like all parents, he wanted to me a standard of living miglioredel her. But I had no great desire to study and the day of 6gennaio 1962 (I was then 15 years old, having been born on Nov. 24, 1946), after thinking for a long time, I made my decision. The next day, finished the Christmas holidays, I should go back to school, instead quellasera Epiphany while dinning I took courage and in front of all the family (grandfather, grandmother, father, mother and my little brother Paul), said that the next day instead of going back to school I would go to the shop with the serious intent to learn the business and continue to do the work of the father ........

Read the whole story in Annex psf.