News
The PIER LONGEVA FAMILY of Asciano: ANGIOLO and LIVIA
(Already started!)

Periodo: Interview realized thanks to the collaboration of REALTÀ FOTOGRAFICA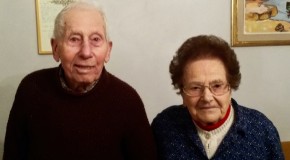 Continuing with our research and preservation of local history, through people and their stories, this time we had the great fortune to be able to interview, not one but two elderly people who managed to drown insime, reaching a rather remarkable age .
It is about:
Angiolo Angelini, over 102 years old
Livia Zacchei, over 93 years old
It's been a long time since we thought of doing a chat with them to fix precious memories of life and if we managed to make it and film it, we must thank Alessandro Fagnani of REALTÀ FOTOGRAFICA and Alberto Fratagnoli, his friend and occasional collaborator.
Sincere thanks to the two interviewees, for the disturbance that we have brought him down at home with our equipment and the aforementioned fellow citizens who have made themselves available, with great enthusiasm.
clicking here you will have the opportunity to enjoy the entire video-interview, lasting about 40 minutes.
Later, we will try to publish a written summary for those who like to read short stories.