News
THE TRITTIC OF BADIA ROFENO, the extraordinary work of an innovative artist
Periodo: WINDOWS ART ARTICLE, Contribution for Upcoming Exhibition on AMBROGIO LORENZETTI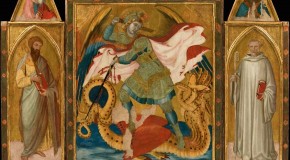 At the Civic Museum of Palazzo Corboli of Asciano is preserved the Triptych of Badia in Rofeno, extraordinary work by Ambrogio Lorenzetti, which introduced several novelties.
It is not a simple work, the triptych of Badia in Rofeno, painted among the most interesting of Ambrogio Lorenzetti (Siena, circa 1285 - 1348) and currently preserved at the Civic Museum of Palazzo Corboli of Asciano, in the historical center of the town immersed among the Crete Senesi. Charming as problematic, it is a painting on which they have weighed for a long time (and in some respects still weighing) different questions. On what occasion was it performed, and to whom was it intended? In what period of Ambrogio Lorenzetti's career can it be placed? Why do the measures of certain parts that make it appear so inconsistent with the rest of the work? What is the meaning of this unusual scene that appears on the central table?

to continue reading the published article, click here or open the attachment.