News
Controversial history of a masterpiece: Master of Osservanza or Sano di Pietro the author?
Periodo: Sunday 28 May at 17.30 at Casa Corboli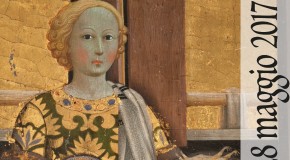 The surprises and opportunities for deepening local art history are no longer over. After the splendid inauguration of the fellow countryman Domenico di Bartolo Ghezzi, I now draw a comparison of one of the greatest masterpieces kept in this small / great museum.

This is the "Nativity of the Virgin" coming from the basilica of Sant'Agata. The aristocratic value of this luminous and rich detail of the triptych has long been known, so that a specific room is dedicated to the museum.

His achievement is many attributed to the "Teacher of Observance" on whose material identity there are different hypotheses among the experts of Art History.

It will be fascinating to see a direct confrontation between experts, just where the table is stored.

In comparison, the doctors will participate:

Maria Falcone
Alessandro Bagnoli

Expert scholars of the artist and professors:

Alessandro Angelioni
Roberto Bartalini

An opportunity to discover new things, coupled with the visit of the splendid works by Domenico di Bartolo and the vision of the splendid illustrative fim, specifically made for the exhibition. We will definitely be there.