News
DOMENICO DI BARTOLO, the great painter
(Already started!)

Periodo: Asciano honors his talent at Palazzo Corboli until Friday, August 11th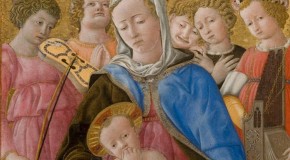 "This is an important day that manages to bring together Christian values ​​and civil values ​​that are subtle in art, because the same city of Asciano feels the need to honor the life and artistic path of an illustrious son, Domenico di Bartolo Ghezzi. "

Thus the art critic Vittorio Sgarbi during the Lectio Magistralis held on the occasion of the inauguration of the exhibition "Domenico di Bartolo Ghezzi. Chronicles of Mercy ".

"It is right," he said, "to admire his works in this city, already rich in works of art and museums, although there are no more, but from here I have finished all over the world, in prestigious museums in Washington , Philadelphia, Princenton, but also Perugia and of course in Siena.

Therefore, this exhibition can not end and has its natural development where Di Bartolo has realized his masterpieces, at the Spedale of Santa Maria della Scala where he realized the cycle of frescoes in the Pellegrinaio Hall, and where one artist first recognizes size".

Prior to the art critic, Luca Barbi and Franco Sartini intervened for Pro Loco, who created the project "5 Talents for Asciano City of Art", the mayor of Asciano Paolo Bonari who wanted to remember how the exhibition was born "from The will to promote this city of art and thanks to the active contribution of volunteering that has been spent for its realization. "
While Enrico Toti and Cecilia Alessi had explained the exhibition path and the works present and Mario Ascheri had traced a rapid profile of Garbo's country in the fifteenth century.

Among the works of Domenico di Bartolo, "The Madonna of Humility", his undisputed masterpiece thanks to the loan of the National Picture Gallery and the "Madonna Assunta" of the Conservatori Feminili Riuniti of Siena. But the exhibition also suggests the roots of Domenico's artistic journey, his references, the outcomes of his painting, his inspiration with contemporary sculpture. In this sense, the little note "Madonna and Child" comes from Villa di Sesta, Jacopo della Quercia, from which the "pictor dasciano" was undoubtedly influenced, and the "Madonna and Child" by Luca della Robbia, Coming from Foiano della Chiana.

With the occasion, a video was also produced that describes the works and landscapes inspired by the artist, while the volume of Augusto Codogno, which serves as a catalog of the exhibition, "Domenico di Bartolo, an artistic life between lights and shadows" Has definitively recognized the bond between the artist and his native city, Asciano. "A fundamental book and maybe the first one dedicated to this painter in such monographic terms," ​​said Vittorio Sgarbi.

The exhibition will be open at Palazzo Corboli until Friday, August 11, every day from 10am to 1pm and from 3pm to 5pm. Information and reservations at 0577 719524.

Useful info:
DOMENIC OF BARTOLO - MISERICORDIA CRONACHES
May 6 - August 11, 2017
Asciano, Palazzo Corboli, Civic Archaeological Museum and Sacred Art
Corso Matteotti, 122
Phone: 0577719524
Hours: every day 10.00-13.00 - 15.00-19.00

Book on the painter, made for the exhibition:
"Domenico di Bartolo pictore dasciano. An artistic life between lights and shadows ". By Augusto Codogno. Mario Ascheri's lyrics. Vittorio Sgarbi's Preface.
Maggioli Museums