News
At 15: winter days to Colombaiolino
(Already started!)

Periodo: Short story of Aldo Leonini, born in 1926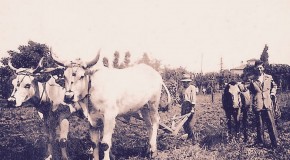 My room was located to the north, then exposed to the rigors of winter, especially since the now dilapidated fixtures left easily pass certain drafts that we could not even fend pat with the rolled-up blankets. In the Latvian who had no nets, but only a floor boards on which rested the big bag of maize leaves stuffed, however, it was quite hot; head sadly left out of the blankets and then cool. Then there were no radiators to heat evenly throughout the room, and when the night was forced to get out of bed to satisfy our physical needs, seemed to get into a refrigerator. Sometimes it was successful also to see the freezing of bottled water that we kept on the bureau top.
of course, were not there when the winter the north wind was blowing, it was very pleasant stay "chiotti chiotti" and huddled in the warmth under the covers and, to be honest, you had to be brave to get off the Latvian and set foot on the floor where the carpets. Under my room was the barn, where normally staying two oxen or two cows, a cow, and very often some calf ............
to read the whole story, just click "Download the attached pdf"